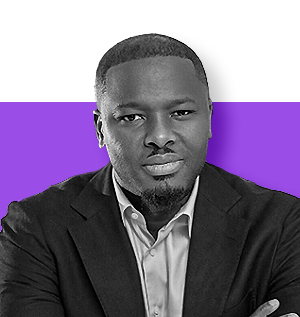 Kola Aina
Partner, Ventures Platform
Kola is an established investor, insightful non-Executive director, and company chair passionate about seeing start-ups grow and improving the lives of ordinary Africans by democratizing prosperity.
He brings demonstrable success from leading investment in over 70 companies in Africa, India, and the US, including payments companies such as Paystack. He has established networks across the private sector, development partners, financiers, governments, and regulators.
He is an entrepreneur, technology operator, and venture capital investor with vast experience working in Africa's most significant economic market. He brings expertise across several sectors, including venture capital, technology, media, agriculture, infrastructure, publishing, and real estate, and a significant interest in the arts.
He is a Tutu Fellow and a mentor with various programs, including -  XL Africa, the World Bank Accelerator, and Google Launchpad Accelerator. He is also a board member and advisory board member of various organisations ranging from ARM Financial Advisers, Iron Global Markets, and Reliance HMO - to name a few.
Kola is a passionate art patron, chairs the advisory board of the Yemisi Shyllon Art Museum, and is a member of the Africa Acquisitions Committee(AAC) of the Tate Museum. He is also a member of the Young Presidents' Organisation(YPO) and a fellow of the Aspen Institute USA (ALIWA).
Kola studied Electrical Engineering and then secured a Master's in Business Administration degree specialising in Finance. He has received further education from Berkeley, Harvard, and the Lagos Business School.
Kola is passionate about mentoring and advising young entrepreneurs creating solutions for mass underserved -markets. This has put him on many local and international stages, where he has delivered speeches, lectures, and talks on technology, entrepreneurship, social change, and various other topics. He gave a TED talk at TEDxEuston where he spoke on the topic "Who will own our future unicorns?".  He also spoke at Techcrunch's first event in Nigeria, Techcrunch Startup Battlefield Africa 2019.
He has received multiple awards and has been featured in various lists such as The 20 most important people in Nigerian tech, The ten most influential people in Nigerian Tech and #YNaijaPowerList2018 for Technology and many more.