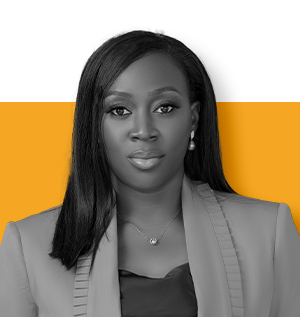 Ladun Awobokun
General Manager - FIlmone Entertainment
Ladun Awobokun is a seasoned content professional, specializing in filmed content acquisition, sales, and licensing. She has 12 years of combined experience in financial market research, strategy, film distribution and financial analysis and currently leads the distribution and acquisition efforts at Filmone Entertainment, as the General Manager.
Ladun and her team represent the theatrical interests of Warner Bros, Walt Disney, Sony, Empire Entertainment in Anglophone West Africa. More so, the team maintains the rights to the most popular Nollywood titles responsible for distributing 90% of the highest-grossing Nollywood titles of all time, as well as the largest aggregator of Nigerian content to the streamers. 
Ladun has also been involved in fostering standardization and transparency in West Africa's movie industry, evidenced by her contribution in the onboarding of the comScore platform in the West Africa region. More recently, she was the Editor in chief of the Nigerian Box Office Yearbook 2022, the official handbook for Box Office facts in Nigeria.
Day 2
Fireside Chat: Fixing Distribution: In Conversation with FilmOne
CE/Content | Creative Economy Stage
Discussing what it takes to enhance Nigeria's film distribution landscape.