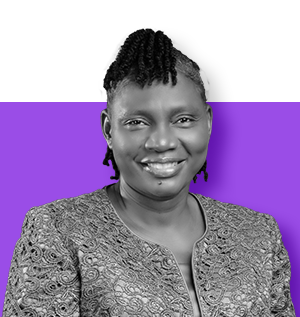 Mayowa Olaniyan
Group Managing Director/CEO, CHAMS Group
Mayowa Olaniyan is an insightful Business Executive with sturdy managerial expertise. Until her appointment as the Group Managing Director/CEO of Chams Holding Company PLC, she was the MD/CEO of Chamsmobile Limited, a fast-growing FinTech company, licensed by the Central Bank of Nigeria (CBN). She has built an accomplished and well-recognized career of close to 30 years that spans Technology, Strategy, Finance, Audit, and Automobile. Over the years, she has established a record of success by significantly growing business value and maximizing profits through internal control and efficiency.
In the past years, Mayowa has served in various managerial capacities in renowned organizations such as SCOA Nigeria PLC and Tranter International Ltd. She later joined Supercard Limited (a then subsidiary of Chams Holdco PLC) as the AGM of Corporate Services, where she oversaw the company's corporate activities.
It is noteworthy that Mayowa led the implementation of one of Chams Holdco PLC's most successful public-private partnership projects, deriving cost optimization for the partnering state government, and achieving increased earnings for the company.
A chartered accountant of repute, a Fellow of the Institute of Chartered Accountants of Nigeria (FCA), and Associate Chartered Certified Accountants (FCCA), Mayowa holds an MBA from Edinburgh Business School, Heriot-Watt University, UK. She has a degree in Applied Accounting and post graduate diploma from Oxford Brooks University, UK.  She is an alumna of the prestigious Pan Atlantic University (Lagos Business School), Nigeria, the University of Stellenbosch Business School, South Africa, and NANYANG Technology University, Singapore. Mayowa Olaniyan, Chams' Amazon, serves on the board of several organizations within the Chams Group and other organizations.
Day 1
Fireside chat: Building innovative companies that last
The first generation of technology companies in Nigeria will share lessons and pointers for building tech companies that stand the test of time.
Big Tech + Enterprise | Startup stage